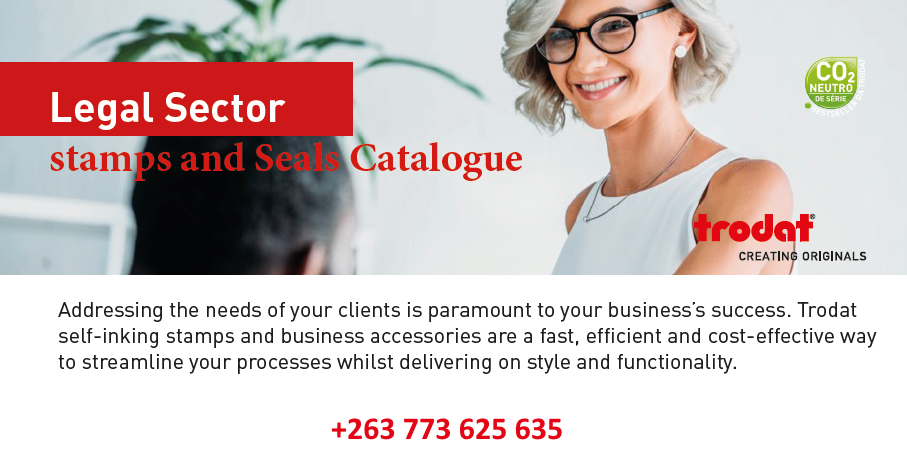 Legal Sector Stamps and Seals
Addressing the needs of your clients is paramount to your business's success. Trodat self-inking stamps and business accessories are a fast, efficient and cost-effective way to streamline your processes whilst delivering on style and functionality.
Company Embossing Press
Perfect for embossing your company logo on documents, adding an official seal of approval.
Additional sizes available

Seal labels available in a variety of different colours
Ref: 83719
Size: 41mm
RRP: $80.00

Legal Verification Stamp
Save precious time verifying that you have seen the original copy of legally required documents.
Stainless steel body
Replacement pads available
Ref: 123197
Size: 55 x 25 mm
RRP: $45.00
Business Card Stamp
Brand your documents, leaflets etc. with a personalised Business Card Stamp.
Multi-coloured impressions available
Prints 1000's of clear images
Ref: 63366
Size: 64 x 26 mm
RRP: $20.00


Legal Confidentiality Stamp
Clearly mark legal documents and envelopes as confidential to ensure you and your company remain compliant with regulatory bodies such as The Law Society of Zimbabwe
Ref: 11666
Size: 70 x 10mm
RRP: $20.00


Signature Stamp
Mark cheques & sign company documents with ease with the Trodat signature stamp.
Your exact signature imprint
Make light work of repetitive tasks
Ref: 11664
Size: 56 x22mm
RRP: $20.00


Personalised Paralegal Stamp Pen
Featuring stylus and flip-out stamp these highly functional pens will make light work of repetitive tasks.
Ref: 83721 (black), 83981 (chrome)
Size: 33 x 8.7mm
RRP: $50.00


Company Branding Stamp
Personalise company letters, compliment slips and reduce printing costs with a company branding stamp.
Largest self-inking stamp
Multi-colour option available
Ref: 110087
Size: 115 x 70mm
RRP: $60.00

Administrative Stamps

These stamps feature phrases commonly used on office paperwork, ideal to streamline efficiency in the office.
RRP: $20.00



Office Date Stamp
4mm date size
12 years of dates
Built in black stamp pad.
Ref: 120193
RRP: $30.00



Office Word/Date Stamp
12 years of dates with a choiceof wording
Built-in red and blue ink pad-prints the words in blue andthe date in red (4mm date)
Ref: 141365 - PAID, 139922 - RECEIVED, 141303 - FAXED, 141386 - CHECKED
RRP: $30.00



ID Protection Stamp
Remain GDPR compliant by stamping away any personal customer information.
Stamp – no need to shred documents
Protect you and your company from identity theft
Ref: 53905
RRP: $20.00